A+ to G
The raw material and process mix used to produce steel can be tracked and classified. The Stahlo classification label shows at a glance in which emission class the steel is produced. In addition, the marked icons provide information on the materials used, process steps and energy input.
Here you can configure your classification label yourself.
Routes
Route 1 - Blast furnace
Around 70% of crude steel is still produced using coke. However, this form of extraction is increasingly viewed critically.
Way 2 - Arc furnace
The electric steel route (recycling route) describes scrap-based production in the electric arc furnace. This route is often seen as a bridge technology for green steel.
New - Green steel
Fossil-free green steel is decarbonized steel. CO2 is either completely avoided or captured and converted or stored. In the long term, only CO2 avoidance is accepted as a sustainable solution.
It starts with trust and transparency
Stahlo - Trusted Excellence.
The overall view must, of course, also take into account greenhouse gas emissions along the entire value chains and product portfolios.

The GHG Protocol's corporate value chain accounting and reporting standard (Scope 3) is not yet interpreted consistently. Furthermore, the guidelines are not applied uniformly. As a result, a product's carbon footprint (PCF) is currently difficult to determine. The PCF includes the total greenhouse gas emissions generated by a product at different stages of its life cycle. For example, a cradle-to-gate ("from the cradle to the factory gate") PCF takes into account all processes from the extraction of raw materials to the manufacture of precursors to the production of the final product. And it does so right up to the point at which it leaves the company. In addition to the steelmaking process, energy consumption and the extraction of primary and secondary raw materials must also be taken into account. This also includes all the necessary transport and packaging materials. At present, it is not yet possible for us to record this transparently and take it into account in a uniform way. However, we do not want to wait until all the prerequisites for this have been clarified either, so in a first step we are only looking at Scope 1 and 2 of steel production. Here, a large part of the emissions in the overall process can already be recorded and made transparent.
"The Stahlo classification label doesn't yet cover the entire footprint of steel, but by looking at crude steel production, it identifies one of the most important steps in steelmaking."
Oliver Sonst
CEO Stahlo
Certifications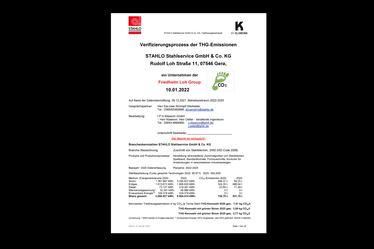 Schedule from 2020 to 2025 Gera site
Greenhouse gas emission in kgCO2e per ton of steel:
2020 GHG ratio total:
7.51 kg2e/t
GHG indicator with green electricity 2022 total:
3.59 kgCO2e/t
GHG indicator with green electricity 2025 total:
2.77 kg CO2e/t
Remark:
*WRG already accounted for in natural gas
** Renewable energy 100% fed in
subsidized according to EEG, CHP in operation
Contact us.
According to current initiatives such as "Fit-for-55" and climate protection agreements, steel producers are to convert steel production and make it "cleaner" in several development steps and process variants by 2050 at the latest. The classification shows 7 levels from G (high CO2 impact) to A+ (very low CO2 impact). The first level C materials can already be offered today.
It is already possible today to select the material in such a way that up to 75% CO2 is saved compared to current mass production.