Steel-Service-Center
Smart connectivity of the steel supply
Our employees are steel experts. They combine their experience and material knowledge with the knowledge of who needs what. The interconnection of digital information with strong partnership relationships realize a fast supply with top quality and reliable pooling options. This enables the perfect match of pricing model, grade selection and demand.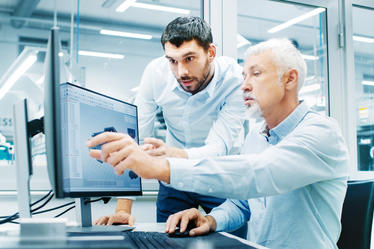 Experts
Competitiveness and added value!
Our experts accompany you through the entire product life cycle. The fully comprehensive service focuses on the optimal product solution for each project. Save storage capacity and capital commitment from product creation to series discontinuation with the Stahlo storage service. In addition to starting material, we store specific products individually for you, from blanks to coils.
With the Stahlo transport service, we offer you the smooth integration of the material into your production and value-added process.
Our services
Regional direct
Industrial customers are served regionally and directly with absolute proximity and understanding of their products on an individual basis.
Key Accounting
Automotive customers are served centrally and nationwide with individual understanding, knowledge of product and requirement.
Digital Sales Team
Online consulting and purchasing maximize opportunities and promote price transparency. Try out our individual consulting service online.
Reseller / Trade
We take care of you centrally and as a trader we know the requirements of the trade. We also sell the goods without any processing.
Technical consulting
Comprehensive and professional service at all stages. Find the right steel for your individual application.
Digital marketplace
An intelligent configuration shows the availabilities, grades, classifications and much more. Order directly online.
Locations
The precise networking, processing and delivery of all material grades is made possible by our "Smart Connectivity". The combination of our optimally located sites in the heart of Europe and our digital know-how results in perfect and environmentally friendly logistics.