Sheet metal service
Ideas from Thuringia for Europe and the world
Customized sheet blanks, panels and small coils for industry and trade.
Products
All essential sheet metal grades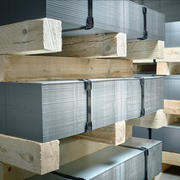 Sheets

Small, medium, large formats in various material thicknesses from 0.40 mm to 3 mm.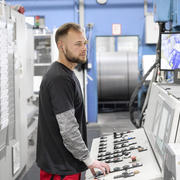 Customized blanks

Individual steel sheet blanks in various material thicknesses from 0.45 mm to 3 mm. The dimensions for blanks range from 37x295 mm to 2000x4500 mm.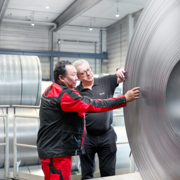 Oversizes

We process coils up to 40 t and
in width up to 2000 mm.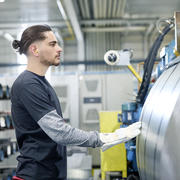 Small coils

The ring weights can be selected individually from 1000 kg to 7500 kg.
Materials
Sheet range from mild steel to ultra-high strength - with or without coating
Hot rolled flat products

Hot rolling requires low forming forces,
hardening of the material does not take
place due to the recrystallization that
constantly takes place. Dimensional
accuracy is limited due to thermal
distortion, thermal shrinkage. Hot-
rolled grades meet only limited surface
requirements due to the process.
Grades according to DIN EN 10111.
Cold rolled flat products

We offer cold-rolled flat products
made of mild steels for cold
forming according to DIN EN 10130,
cold-rolled flat products with high
yield strength for cold forming made
of micro-alloyed steels according to
DIN EN 10268 as well as general
structural steels. These blanks are
suitable for edging and welding
of any kind.
Hot dip galvanized flat products

Hot-dip galvanized fine sheet is particularly suitable for outdoor applications or environments with high humidity. In our portfolio you will find soft grades, micro-alloyed grades, structural steels and electrogalvanized material according to DIN EN 10346.
Electrogalvanized flat products

The electrogalvanized sheet is protected against corrosion by a special coating . The zinc coating applied on one or both sides, in conjunction with other surface treatments, is an optimum adhesion base for further coatings. This benefits, among others, exterior automotive parts as well as other parts with high surface requirements according to DIN EN 10152.
Locations
The precise networking, processing and delivery of all material grades is made possible by our "Smart Connectivity". The combination of our optimally located sites in the heart of Europe and our digital know-how results in perfect and environmentally friendly logistics.
Suppliers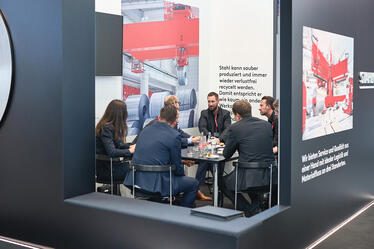 Global partner network
Independent, digital and personal; together with our partner network we ensure the availability of steel at the optimum price-performance ratio.
Industry
Furniture manufacturing
We have established ourselves as a decisive partner in the world of furniture construction and interior design. The use of steel in these areas makes it possible to create both robust and aesthetically pleasing solutions.
Metal processor
Whether laser, press brake, welding or other processing of the sheet metal - we supply you with the appropriate cut directly from the conveyor belt.
Construction industry
Today's construction industry is under increasing pressure to reduce waste and increase recycling. Since steel products and steel construction techniques naturally produce little waste throughout their life cycle, the importance of steel in today's construction industry is increasing significantly and continuously.
Corporate Governance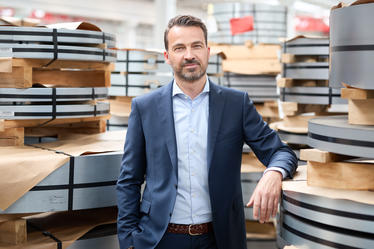 "BSN has been a subsidiary of Stahlo since 2018. This close connection guarantees security and stability. Our customers trust in the proven quality of Stahlo. As managing director of both companies, I am firmly committed to providing reliable sheet metal service."
Oliver Sonst
Chief Executive Officer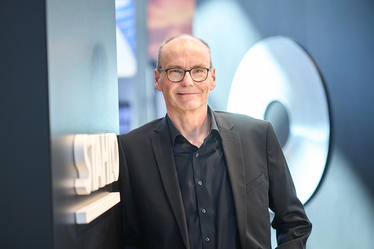 "Service is written in capital letters for us. Sheet metal service at Stahlo means having a strong supplier at your side even in times of crisis."
Matthias Steiner
Vice President Sales Blech Service
"The key to success is identifying the customer's needs and meeting them with the right solutions."
Jennifer Krey
Sales Manager